Murderer walks out of Ford open prison in Sussex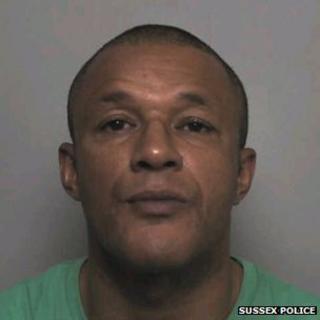 The public are being warned not to approach a convicted murderer who has walked out of a Sussex open prison.
Paul Flint, 48, who has convictions for murder and burglary, walked out of Ford Prison on 1 July.
In June 2012 he was on the run for six days from a Suffolk jail after failing to return from day release.
He is wanted in connection with two burglaries in Hove, on 8 and 15 July, and one in Brighton, on 5 August, Sussex Police said.
Flint is described as black, 5ft 11in tall and of stocky build with black/greying hair and wearing glasses.
Det Insp Dave Richards, said: "We think Flint is likely to commit more crime unless he is arrested so I would urge anyone that sees him to contact us immediately."
In June 2012, Flint went on the run from Hollesley Bay prison on Suffolk while on day release.
He was recaptured six days later by Avon and Somerset Police at his brother's home in Bedminster in Bristol.
'Vigorously risk assessed'
A Ministry of Justice spokesman said all prisoners located in open conditions had been "rigorously risk assessed and categorised as being of low risk to the public".
He said: "The level of absconding from open prisons in 2012/13 was the second lowest since records began.
"Absconds are still 13% lower under this government.
"We are not complacent about this issue and are looking at ways in which the risk of absconding can be reduced further.
"We are committed to ensuring that risk to the public is minimised."
Sussex Police have warned the public not to approach Flint but to call 999.