Woman raped under Brighton Pier after night out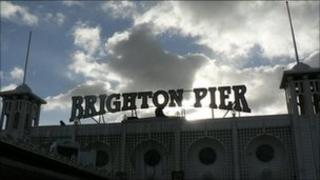 A 24-year-old woman has been raped under a Sussex pier after a night out.
The woman left Oceana Nightclub in Brighton at 01:30 BST on Saturday with her sister and two men but became separated from them.
Between 02:00 and 03:00 she found herself under the pier with a man she did not know, Sussex Police said.
The man who was described as black, in his late 20s and 5ft 5in tall, attacked her before running off towards the Brighton wheel.
He was clean shaven, had short or shaved black hair and spoke with a London accent.
Police have asked the two men who left the nightclub with the sisters to contact them to help them trace the victim's movements leading up to the attack.