St John Ambulance crashes into Stoneham cottage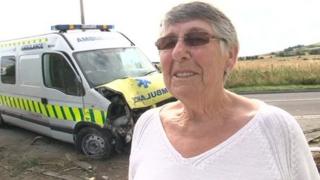 A St John Ambulance has smashed into the front of a cottage in East Sussex.
The accident happened on the A26 at Stoneham, just north of Lewes, at about 07:30 BST.
The driver, the vehicle's only occupant, was taken to hospital with injuries that are not believed to be serious.
Pat Williams, the property's owner, said problems had been ongoing on that stretch of road for the past 30 years.
In November 2006, a lorry ploughed into a house nearby.
Two weeks later, a motorbike hit a car on the same bend, sparking anger among residents who said more should be done to prevent accidents.
"I heard a loud bang, thought it was thunder," Ms Williams said.
"And some bloke woke me and said 'There's an ambulance hit the house ma'am'.
"I'm a bit traumatised at the moment, I don't know what to think.
"Maybe they'll do something about the road now. It's been promised for years."
There are warning signs on the road, which is used by more than 22,000 vehicles a day.