Baby hedgehog rescued from Christmas bauble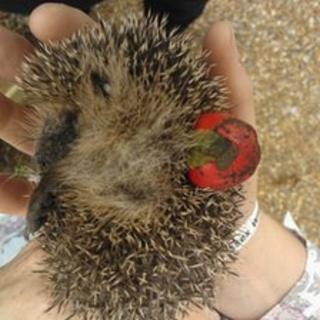 A baby hedgehog has been rescued from a Christmas bauble it has become trapped in.
The animal was found in distress by staff at the Laughing Fish Pub in Isfield, East Sussex earlier.
Trevor Weeks, from East Sussex Wildlife Rescue Service, said the hanging loop had caught around its body when it was smaller, and would have killed it.
The hedgehog was taken to a vet and is now recovering at the charity's casualty care centre in Uckfield.
Mr Weeks, who founded the charity, said: "You could smell the infection and obviously the hedgehog had got her head and left leg through the loop when she was much smaller and as she had grown the loop became more and more tight.
"This would have eventually killed the baby hedgehog if it had been left so was extremely lucky to have been found and saved thanks to the observant staff at the Laughing Fish Pub."