MP Mike Weatherley reports Twitter 'kill' threat to police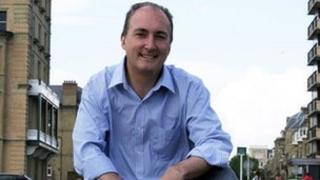 An MP has called in police after receiving a death threat on Twitter for calling on David Cameron to speak out against Russia's anti-gay legislation.
Mike Weatherley, Conservative MP for Hove and Portslade, said Twitter trolls should not be allowed to make threats while lurking behind their computers.
A Twitter user with almost 1,500 followers replied "kill Weatherley" to a tweet by Pink News about the MP.
Sussex Police said it was investigating the content and source of the message.
Mr Weatherley wrote to the Prime Minister on 29 July highlighting concerns about anti-gay laws passed in Russia ahead of it hosting the 2014 Winter Olympics.
Stephen Fry letter
He told Mr Cameron Britain had "a duty not to stay silent".
The MP received the death threat tweet after the Pink News tweeted an article about Mr Weatherley's letter.
"Twitter trolls cannot be allowed to hide behind their computers when making threats like this," said Mr Weatherley.
"There is absolutely no way that I will allow this intimidating kind of behaviour to change my stance on this matter, as I will continue to stand up for gay rights both in Russia and around the world."
A Sussex Police spokesman said: "We have been made aware of a message on Twitter in which Hove MP Mike Weatherley is threatened.
"We are investigating the content and source of the message."
The controversy in Russia was sparked after politicians in its lower house of parliament, the Duma, passed a law imposing heavy fines for providing information about homosexuality to people under 18.
It led to broadcaster Stephen Fry writing an open letter urging Mr Cameron to support moves to strip Russia of the Winter Olympics.