Balcombe parish decision to accept oil drilling 'wrong'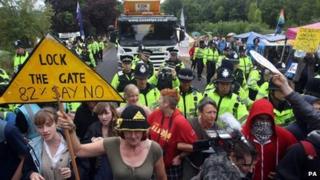 A parish council has explained why it did not oppose test drilling for oil in a West Sussex village where protesters have gathered for 16 days.
Alison Stevenson, Balcombe Parish Council chairwoman, said members were sorry they did not flag up the issue.
She said drilling in Balcombe in 1986 had little impact and the council had expected drilling now taking place by Cuadrilla to be "an exact repeat".
But she said the council saw, with retrospect, it was the wrong decision.
Cuadrilla is drilling a 3,000ft (900m) vertical well and a 2,500ft (750m) horizontal bore, but has said any further activity would need fresh permission.
Protesters who gathered in the village on 25 July fear the drilling could lead to hydraulic fracturing, also known as fracking, at the site.
Ms Stevenson said a company "came and drilled a borehole and went away" in 1986.
She said the borehole produced some oil but not much.
"We were a little bit curious about why someone would want to come back again, and almost dismissive," she added.
Public meeting
West Sussex County Council granted permission in 2010 for Cuadrilla's test drilling, and the Environment Agency also gave consent. The county council received no objections.
Ms Stevenson said fracking was not being covered by the media in 2010, adding: "Certainly nobody on the parish council was aware of it."
She said: "I think that's what we missed, that there was a new technique involved, and perhaps this might become a production well."
Hundreds more protesters are expected in Balcombe next Friday, when the campaign No Dash for Gas plans to hold a six-day Reclaim the Power camp in the village.
Sussex Police said they were expecting "a few hundred" protesters, but officers were hoping to contact organisers to support a peaceful protest and ensure Cuadrilla's continued business.
Organisers of the camp are holding a public meeting in Balcombe on Friday evening to talk to the community.
South Downs drilling
In a separate development, villagers in Fernhurst have also begun a campaign against plans by Celtique Energie to carry out exploratory oil drilling.
Fernhurst resident Caroline Randall said a committee of people opposing the plans had been in touch with protesters at Balcombe.
But she said it was hoped protests would not be necessary.
She said: "We are different from Balcombe in that we are opposing it from the start.
"They [Balcombe] unfortunately didn't know it was going through, and they are fighting it after the event."
Celtique Energie told the BBC an application to the South Downs National Park Authority would be made in the next few months.