Dieppe Raid survivors attend 71st anniversary service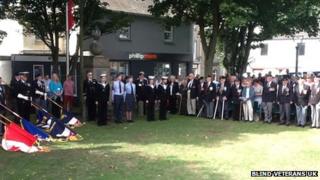 Survivors of the Dieppe Raid in 1942 have taken part in a service to commemorate its 71st anniversary.
The disastrous seaborne raid was launched by Allied forces on the German-occupied French port on 19 August 1942.
Corporal Alan Saunders, who tried to swim from Dieppe to Portsmouth, said: "It's one of those things that never should have been."
The service was held at the Memorial Garden in Newhaven, Sussex.
Mr Saunders, from Crawley, was sent to fight in Dieppe as a 19-year-old Royal Marine commando.
After nine hours of heavy fighting, the Allied troops pulled back.
Some 3,367 Canadians and 275 British commandos were killed, wounded or taken prisoner. The Royal Navy suffered 550 dead and wounded and there were 591 German army casualties.
'Detritus of war'
"It was an absolute disaster," Mr Saunders said.
"The Royal Marines couldn't carry out our planned operation because the boom across the entrance to the harbour could not be broken.
"The ship tried to crash the boom three times - the plan had to be changed."
He said word had reached the troops that the Canadians had broken through, but it was information that proved to be wrong.
"The Royal Marine commandos switched to the beach to support the Canadians," he said.
"The beach was just littered with the dead and the dying, body parts...the detritus of war.
"It was pointless to put more men ashore because it would be just putting them ashore to be shot to pieces.
"Somebody started heading back to the shore - I pointed in the other direction and said 'Portsmouth is that way, let's go'."
He said six servicemen had decided to swim towards England.
"The weather just couldn't have been better - the Channel was calm and it was clear," he said.
They swam for almost three hours, treading water during breaks, before they were spotted by the crew of HMS Brocklesby.
The men were taken on board and the ship headed to Portsmouth.
He eventually got back to the Isle of Wight, where he was based.
Mr Saunders was one of the servicemen representing Blind Veterans UK, formerly St Dunstan's, at the anniversary service, which was attended by British and Canadian survivors of the raid.
He said his sight began to deteriorate about 20 years ago, and he lost most of it after suffering macular degeneration and cataracts.
"Six years ago a Royal Marine mate of mine was a member of St Dunstan's and said why wasn't I?" he said.
Mr Saunders has now been a member of the charity for five years.
"It's given me a new lease of life," he said.
"My wife died about two years ago and St Dunstan's have been a Godsend for me.
"It's something to live for - I love the organisation."