Hove Battle of Britain hero commemorated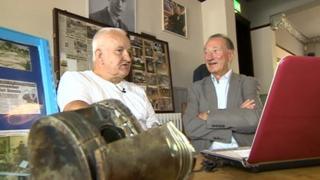 Wreckage from a Battle of Britain pilot's plane has gone on display in a Sussex pub just yards from where it crashed, burying him for 56 years.
Sgt Dennis Noble's Hawker Hurricane was shot down over Hove in August 1940.
His body remained buried with his plane under Woodhouse Road until 1996, when Battle of Britain historian Keith Arnold led an excavation of the site.
Now Mr Arnold has presented a chunk of the doomed plane to the pub named after the war hero.
On Thursday he met an eye witness to the crash for the first time.
John Samuel was 12 when Sgt Noble's aircraft was shot down by the pilot of a German Messerschmitt during a dogfight.
"There was this awful screaming sound," said Mr Samuel.
"It was like a sound from hell."
The Hurricane dived vertically before smashing into the ground outside number 49 Woodhouse Road.
The giant crater was quickly filled in and Sgt Noble's family, in Retford, Nottinghamshire, was sent a coffin, which they buried in a grave that became the focal point for the town's Battle of Britain commemorations.
Sgt Noble had been on active duty for just 27 days when he died at the age of 20.
The excavation led by Mr Arnold, an official at the military aviation museum in Tangmere, West Sussex, uncovered the airman's body inside the wreckage of the plane, which was largely intact.
The coffin buried by Sgt Noble's family was found to be full of bricks but eventually his actual remains were buried in the grave.
A collection of old photographs and pieces of the doomed Hurricane are now on display at the Noble House pub in Portland Road, near where the plane went down.
The rest of the aircraft is Tangmere military aviation museum near Chichester.