'Maggot-infested' Wealden bins not emptied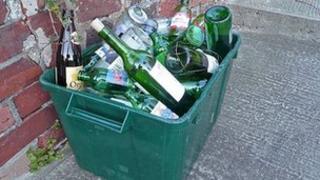 Residents in parts of East Sussex say there are long delays to their refuse collection two weeks after their waste company introduced new routes.
Kier Environmental Service began a new residential waste collection service in Wealden and Eastbourne on 22 July.
A Wealden resident said bins had become "maggot-infested" in the village.
In a statement, Kier said it had changed over to new routes and "some residents have not received the collections they were due".
Adrian Hope, from Mayfield, in the district of Wealden, said: "It's pretty grim and a lot of bins have got maggots and residents are having to take infested waste in bags to the local waste sites and the smell is appalling."
He said larger waste lorries being used by Kier were not able to go down the narrow roads of his village.
'Teething problems'
Kier took over the waste collection service on 1 April and continued with the existing collection rounds.
On 22 July the company changed the service and introduced revised collection routes.
Bob Stanley, leader of Wealden District Council, said: "We are working with Kier to try and catch up and we are doing our best to get the service back to where Wealden residents require it.
"There are financial penalties, but we are concentrating at the moment on collecting the rubbish which should have been collected, and that is much more important than penalising Kier."
He said in the first few weeks of the new service, 85% of households had a "perfect service" and in the second cycle this figure was up to 90%.
"I did not expect this level of teething problems," Mr Stanley said.
A spokeswoman for Kier said: "We would like to apologise to those who have been caused any inconvenience or distress by this and assure them that we are working hard to quickly remedy this situation, which is improving.
"While most Wealden residents have received collections on the right day, we accept that too many residents have not received a collection when they were due."
She said extra staff and vehicles were being deployed in the area while rounds were being adjusted.
Eastbourne Borough Council said collection rates were "on target" at 98%.
A spokesman said: "We are very pleased with the way things are going."
The new contact between Kier and Eastbourne and Hastings borough councils and Rother and Wealden district councils could save £30m over 10 years, the councils have claimed.