Balcombe fracking protests: Activists vow to stop drilling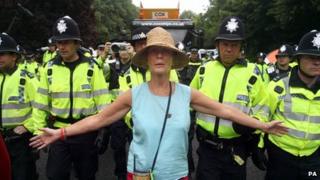 Activists who forced the closure of a Nottinghamshire power station have vowed to halt oil drilling tests in West Sussex.
Campaign No Dash For Gas plans to hold a six-day action camp in Balcombe instead of one near a power plant in West Burton.
It said its intention was to stop Cuadrilla drilling during the event, between 16 and 21 August.
The energy firm is drilling boreholes at the site as demonstrations continue.
No Dash For Gas members occupied two 300ft (90m) chimneys at the EDF Energy gas-fired facility at West Burton in Nottinghamshire in October and November last year.
'Upping the ante'
Twenty one people were charged with aggravated trespass after the sit-in, with 16 receiving community orders and five being conditionally discharged at Nottingham Magistrates' Court.
The group said it expected up to 500 people to attend its Reclaim The Power action camp and was in discussions with local landowners about a location.
Spokeswoman Ewa Jasiewicz said: "We will be taking a diversity of action. Our intention is to stop Cuadrilla and to stop drilling in Balcombe, the local people want that.
"We believe that Balcombe is a test case for rolling out fracking across the country. We felt that it was far more relevant for us and local people to come to Balcombe.
"Obviously some people will be concerned. There will be a big influx of people into the area and we'll be upping the ante [on Cuadrilla] but people have called for that."
She added: "We're putting letters through the letterboxes of hundreds of residents from today."
The group said it had not yet spoken to Sussex Police about the action camp but they were planning to "have dialogue with them".
'No threat to village'
More than 30 people have been arrested at the demonstration in Balcombe, mainly on suspicion of obstructing deliveries, including the daughter of Kinks star Ray Davies and Pretenders singer Chrissie Hynde's daughter, Natalie Hynde.
Campaigners fear the test drilling at Balcombe could lead to hydraulic fracturing, also known as fracking.
Cuadrilla has said it would need fresh permission to carry out fracking.
The company's chief executive, Francis Egan, has also previously said the drilling would not pose a threat to the village of Balcombe.
He said: "We've no intention of ruining the countryside and we won't ruin the countryside."
'Two lots of people'
Cabinet Office Minister Francis Maude said: "I absolutely think that Britain, which is sitting on very considerable energy reserves, should be exploiting those energy reserves wherever it makes sense to do it."
He said: "I'm certainly not willing to say as a matter of dogma there are no places in Sussex where this should happen but it has to be done in a way that is exhaustively regulated with all the consents being obtained with the voices of local people properly heard and respected."
He added the protesters at the site had concerns and it was right they should be heard.
But he said there were two lots of people - local people from the village and others who had come in from outside.
Mr Maude said: "As far as I'm aware none of the people who have been arrested in some of the unhappy scenes that we've seen at Balcombe are people from the village itself or indeed people from the locality."