K2 Crawley Leisure centre improvement plan 'on hold'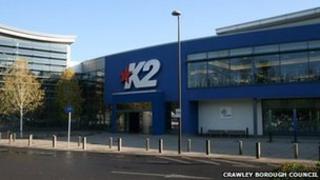 A plan to replace a bowls hall with extra space for gymnastics and children's parties at a leisure centre in West Sussex has been put on hold.
The £650,000 scheme in the K2 Crawley leisure centre was originally proposed in December.
However, Crawley Borough Council has decided to wait 12 months to assess the usage of the bowls hall.
Councillor Duncan Crow said during this time bowls would be promoted at the centre to "reverse its decline".
He added: "We'll revisit these plans in a year's time once we've been able to identify how well - or otherwise - the bowls hall is used."
The council had hoped the adaptations from the scheme would establish the leisure centre as a venue large enough to attract high profile music, comedy and entertainment acts in its main hall.