Brighton Pride parade and party marks 40th anniversary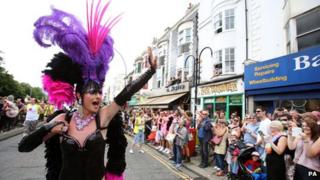 Thousands of people are taking part in the 40th anniversary Brighton Pride celebrations.
A parade of about 60 floats set off from Madeira Drive at about 11:00 BST and arrived at Preston Park at just before 13:00.
Alison Moyet and Paloma Faith are among the big-name acts due to perform on stage in the park.
Peter Tatchell, the human rights campaigner, said: "Brighton Pride is going to be a huge celebration."
He said: "The fact that Brighton Pride is happening just weeks after the legalisation of same-sex marriage is a huge step forward for equality and human rights in Britain.
Mr Tatchell helped organise the UK's first gay pride march, in London, in 1972 - the year before Brighton's inaugural Pride event.
'Unfinished business'
"In those days, pride parades were very political and were about celebrating LGBT (lesbian, gay, bisexual and transgender) culture, but also making a claim for equal human rights," he said.
"We were treated like criminals, and in some ways we still were criminals in the eyes of the law.
"We are also going to remember that there is unfinished business: even today, about half of young lesbian, gay, bisexual and transgender kids have experienced homophobic bullying."
Brighton's Pride event was free until 2010, but was dogged by money problems and complaints about overcrowding and litter.
Paul Kemp, director of Brighton Pride, said: "It costs over £500,000 to stage in the park, and to have it fenced and ticketed makes it a safer event."
This year's Brighton Pride will highlight the issues faced by LGBT people in Russia.
A Pride spokesman said: "The equality and freedom message of Brighton Pride is clearer than ever this year as we march and celebrate in solidarity with the oppressed LGBT population of Russia."
Mr Tatchell added: "In large parts of the world, homophobia is still legal, and in a small number of countries there is even the death penalty for same-sex relationships.
"The message from Brighton is that we have come a long way, but there is still plenty more to do."
Sussex Police said there would be some road closures and temporary disruption during the event.