Balcombe oil: Fracking protesters block site with fire engine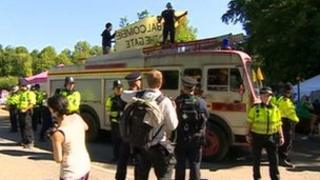 Six people have been arrested after protesters opposed to oil exploration in West Sussex blocked access to the site with an antique fire engine.
Two people were chained to the steering wheel, two more chained behind them, and two chained to the roof.
Four of them were cut free by police using specialist cutting equipment.
The remaining two chained to the wheel released themselves once the vehicle had been towed away. The protest near Balcombe is now in its eighth day.
Action by protesters has held up energy firm Cuadrilla's plans to start drilling at the woodland site, with a total of 31 people arrested since last Friday.
The daughter of Kinks star Ray Davies and Pretenders singer Chrissie Hynde was arrested on Wednesday.
'Crippled with pain'
Natalie Hynde, 30, had glued herself to her boyfriend, veteran environmental activist Simon "Sitting Bull" Medhurst, 55, to form a "human lock" at the site entrance.
Children's author and illustrator Chris Riddell, from Brighton, was at the protest entertaining campaigners by storytelling and drawing on Thursday.
Protesters fear the drilling could lead to fracking, the process of extracting shale gas from deep underground, and claim this will cause water contamination and environmental damage.
Cuadrilla would need fresh permission from the Environment Agency to carry out shale gas exploration using fracking.
Green MEP for the South East, Keith Taylor, said on Thursday he was concerned that the police seemed to be using excessive force against the demonstrators.
He has written to Sussex Police to complain, in particular about the use of the "mandibular angle" technique in which officers use their hands to apply pressure on or near the protesters' ears.
"I am listening to the people of Balcombe who are actually quite shocked seeing people crippled with pain until they do what is required by the police," he said.
"Those people have every right to protect their community."
Brighton University criminologist Prof Peter Squires said he was "shocked" that the technique was considered an appropriate way to remove people.
"The police have got to allow legal activity to continue but also provide a context in which legitimate protest can occur, so it's a very difficult path to walk," he said.
Supt Lawrence Hobbs said there had been some dramatic images of police moving the protesters.
"What the images don't show are the great lengths officers are going to to persuade and negotiate with the person to release their grip," he said.
"It is only after that that officers need to use what is the minimum amount of force necessary to effect a safe arrest.
"It does cause momentary discomfort. There will be a sharp bit of pain that goes almost immediately as and when it is applied."