Fairlight village: Losing the battle against the sea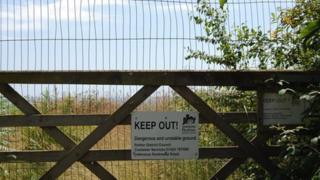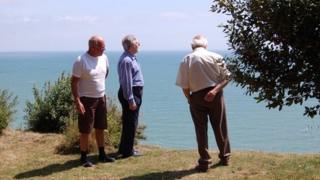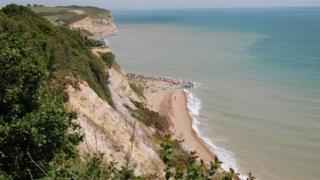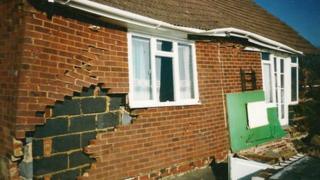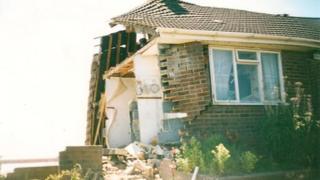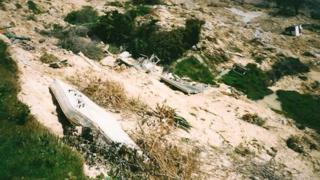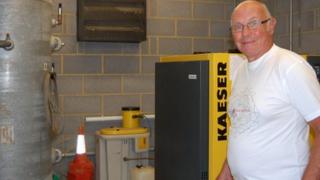 Villagers in East Sussex who fought to protect their homes on the cliff edge are calling for more defences after losing more land to the sea.
Fairlight has seen two coast protection schemes in the past decades to slow down cliff erosion. They include two rocky barriers in the sea at the foot of the cliffs.
But now, in the gap between the two berms, the shingle has disappeared and each high tide removes more sand - creating space for more land to fall.
One resident, Jim Saphin, lost 19ft (6m) of garden in the past winter and the Fairlight Preservation Trust now wants Rother District Council to consider a third defence to plug the gap and protect the village.
But Rother councillor Robin Patten, who also sits on Fairlight parish council, said the work could cost anything between £3m and £10m.
"Money is limited. This funding can only come from central government. Rother has not got the money required and neither have the county," he said.
Adding that the 3,000-strong Fairlight population had to compete with areas like Scarborough and Norfolk, he said: "We did extremely well to get the last defence."
'Potential catastrophe'
Six houses were lost on Sea Road in the late 1980s and early 1990s after the road was breached, and before that a row of cottages also went.
Villagers have said the next road to be breached will be Rockmead Road, which is already lined with demolition sites where houses once stood.
The last Fairlight defence scheme which was to protect Rockmead Road and cost £4.3m included construction of one of the berms, cliff re-profiling (reshaping) and surface drainage, and a system of deep boreholes connected to a pump house to drain water from within the ground.
But Paul Capps, secretary of the preservation trust, said: "The pump house is 22ft (7m) from the edge. It was 32ft (10m), but in the past year we have lost 6.5ft (2m). If it continues at that rate the pump house will not be working within three or four years and £4.3m will be a total waste of money."
Mr Patten said: "The major problem with Fairlight now is not so much cliff fall but 'toe erosion', which is when the sand gets washed away and leaves room for the next bit to fall.
"I think to protect the toe of the cliff might help. It would remain a drama as opposed to a potential catastrophe."
He said: "It [the pump house] was in a good place at the time. But that's what it is living on the cliff edge. You think this is lovely until such time as you fall in. Cliff fall is inexorable. Cliff fall will happen."
'A long battle'
But on top of the cliffs at Fairlight, Dr John Sinclair's house now stands 35 yards (32m) from the edge.
When he bought the house 20 years ago, it stood 160 yards (146m) from the cliff.
He said he sought assurances about erosion from Rother council before he bought the property and was told it would be there for another 400 years.
Dr Sinclair and his wife, Kathy, received a letter in 2003 warning them their house was likely to topple by 2005.
They moved their antiques and jewellery to their daughter's home in Hastings, where their valuables have remained.
For a time, the Sinclairs had no insurance. Now their home is covered for rebuilding costs but not land value.
Dr Sinclair, who has spent his retirement campaigning for Fairlight defences, said: "I am realistic. I am over 80."
But he said if he had known what lay ahead, he would never have bought the house. "It's been a long battle," he said.
'Don't fight the sea'
Mr Patten, whose cottage sits below the sea wall at Pett Level, about a mile from Fairlight, said: "Fairlight is a fantastic community."
He said: "I do have every sympathy because of where I live. I am aware of what problems the sea can do to you. But you live with it."
A hundred years ago, before any defences were built, water would flow through his old coastguard's cottage at Pett Level at high tide.
A sea wall was later built with broom fences to hold the shingle beach in place, and that was recently replaced by Environment Agency defences costing £10m.
Mr Patten said there was no doubt sea levels were rising, but he had never worried about the sea overtopping defences in the 40 years he had lived there.
He said: "You do have a much more fatalistic, realistic point of view living by the sea.
"When you go swimming you never fight it, you go with it. It's the same thing living here. Don't argue with the sea. You will never win."