Balcombe oil: Drilling delayed again by demonstrations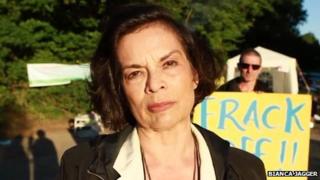 Exploratory drilling for oil at a site in West Sussex has been delayed again following a sixth day of protests about energy firm Cuadrilla's intentions.
The company planned to start drilling at the woodland site near Balcombe on Saturday.
On Tuesday human rights activist Bianca Jagger called on people across the UK to join protesters, who fear the tests will lead to hydraulic fracturing.
Cuadrilla said it would need fresh permission to carry out fracking.
A spokeswoman for the company said no drilling would take place at the site on Tuesday.
Ms Jagger expressed her support for the anti-fracking protesters in West Sussex and posted a link to a YouTube video of a visit to Balcombe on Twitter earlier.
'Shame on you'
She said: "I'm here because I feel it is critical for people throughout this country to come and support the people who are opposing fracking in Balcombe.
"It is important for people in this country to understand that what is happening here can happen to you everywhere.
"People will try to convince you that hydraulic fracking is going to be good for the country, that it is going to bring jobs, that it's going to make the price of fossil fuels cheaper. Don't be fooled by them, it is not a panacea.
"The harm that it will cost to the environment, the harm that it will cost to our water sources, the damage that it will cost to this beautiful area of Balcombe - they're fooling you and you need to know the truth."
Drilling companies say fracking presents an opportunity to generate electricity at half the CO2 emissions of coal and boost oil production.
About 50 protesters remained on site on Tuesday, including a number who shouted "Shame on you" as several lorries made deliveries of equipment.
A total of 23 protesters have been arrested, but Sussex Police said no more arrests were made.
Supt Lawrence Hobbs said policing the protest meant that some activity had been postponed including executing planned warrants and training.
"Now is a busy policing period with many events coming up, including Pride [parade in Brighton] and Goodwood [races] , and we want to make sure that these do not suffer as a result of the strain on resources," he said.
Cuadrilla plans to drill a 3,000ft (914m) vertical well and a 2,500ft (762m) horizontal bore to the south of Balcombe.
The protesters fear the tests will lead to a large increase in the number of lorries in the area. They are also campaigning against Cuadrilla's involvement in shale gas exploration using hydraulic fracturing, or fracking.
On Monday Cuadrilla spokesman Matt Lambert: "We are not hydraulically fracturing at this stage.
"We are looking for oil, not gas, and it's not shale, it's limestone effectively."