Hastings nature reserve 'bucking trend'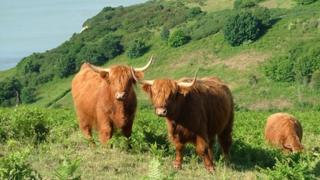 A nature reserve in Hastings says it is "bucking the trend" by creating grasslands and meadows that are being lost elsewhere.
The findings were made in the biodiversity review for Hastings Country Park Nature Reserve for 2013.
The report said an area of heathland called Warren Glen had been disappearing under bracken.
But bracken scraping and grazing by Highland cattle meant it was returning to acid grassland, the report said.
The document was published by Hastings Country Park Management Forum and Hastings Borough Council.
'Tireless commitment'
A national State of Nature report published in May suggested that 60% of animal and plant species had declined in the UK in the past 50 years, and one in 10 could end up disappearing.
Hastings Borough Council said large areas of semi-natural grassland and meadow had been lost across the country.
But it said in Hastings, an additional 31 hectares of flower-rich grassland had been created, benefiting bees including species such as the brown-banded carder bee and the long-horned bee.
Leaving stubble in fields and food for seed-eating birds over winter, in addition to feeding stations, had seen large increases in birds such as wintering linnet, yellowhammer and reed bunting, the spokesman added.
He said barn owls had also been encouraged to return and breed by four new barn owl boxes.
Emily Westley, councillor for leisure and amenities thanked the volunteers, local naturalists and Friends of Hastings Country Park Nature Reserve for their "tireless commitment".