Balcombe oil: Drilling delayed by protesters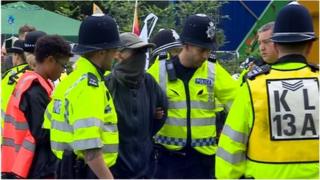 Exploratory drilling for oil at a site in West Sussex has been delayed after protesters blockaded the site entrance.
Oil firm Cuadrilla said it would not be able to drill at the woodland site near Balcombe as expected.
"We are behind schedule and hope to catch up in the next day or so. It won't be starting today," said spokesman Matt Lambert.
Six more protesters were arrested on Monday bringing the total to 23.
Supt Steve Whitton said officers were doing their best to strike a balance between people's right to protest alongside Cuadrilla's right to operate.
He said: "We understand how strongly some people feel about the issue of fracking but it is important that they work with us to protest safely and peacefully.
"Officers are going to great lengths to explain to people why we are there and what is acceptable in terms of their safety and others working at the location.
"Some pictures in the media look dramatic. What they often don't show is the length officers have gone to persuade protesters to move."
He said the cost of the policing operation was currently not known.
Delivery tankers were held up after about 100 protesters started to blockade the site on Thursday.
The first lorry went through the gate just after 09:45 BST on Monday, when about 30 police officers cleared a secure zone amid scuffles.
Cuadrilla plans to drill a 3,000ft (914m) vertical well and a 2,500ft (762m) horizontal bore to the south of Balcombe.
The protesters fear the tests will lead to a large increase in the number of lorries in the area. They are also campaigning against Cuadrilla's involvement in shale gas exploration using hydraulic fracturing, or fracking.
They fear the drilling may lead to fracking in West Sussex in the future.
"We are not hydraulically fracturing at this stage," said Mr Lambert.
"We are looking for oil, not gas, and it's not shale, it's limestone effectively.
"What we will be doing is drilling a vertical well and then a lateral well into the limestone seeing if the oil will flow and testing the geology, bringing up rock samples and looking at those rock samples and any oil that we find."
One of the protesters, Balcombe mother-of-two Georgia Lawe, said it was a "whitewash" to say there would be no fracking at the site in the future.
"I think anyone reading about the hydraulic fracturing process would be terrified about the chemicals they are putting down into our ground with no long-term assurance that they wont seep into our water supply.
"This site is 1.4 km from Ardingly Reservoir."
Mr Lambert said Cuadrilla would be using "drilling mud" - a liquid containing 10% hydrochloric acid to clean up the drill bit and allow the oil to flow.
"It's not dangerous and it's not fracking," he said.
"There is absolutely no question of any of the liquids we are putting into the ground getting into the aquifer or the reservoir."