Wife-killer Ty Medland to serve at least 25 years in prison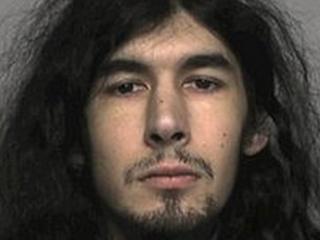 A jilted husband who murdered his wife in a "frenzied" street stabbing, using knives which were a wedding present, has been given a life sentence.
Ty Medland, 26, was described in court as a "petulant, self-centred" man, who had carried out "the most ghastly killing" of his 24-year-old wife.
He was told at Lewes Crown Court that he would serve a minimum of 25 years.
Samantha Medland was knifed to death outside her workplace in Queen Square, Brighton, on 17 February.
Her mother Amelia Shah said Medland had caused "devastation and heartbreak" and the loss of her daughter was immense.
Medland, of Cavell Avenue, Peacehaven, had denied murder, admitting manslaughter on the grounds of diminished responsibility, but this was rejected by the jury at Lewes Crown Court on Friday.
'Destroyed everything'
Jurors were told the couple had married 18 months before Mrs Medland's murder, but had been separated for a month.
She was said in court to have become friendly with another man and to have written on Facebook that her marriage was over.
But Medland, described by the prosecution as a man incapable of dealing with rejection, decided to kill his wife and then himself.
Later, he said: "She pushed me to the edge and destroyed everything... But I don't want to go to prison and I'm too scared to kill myself."
Richard Barton, for the prosecution, said: "He lashed out at her in what was an explosive loss of temper on his part."
The trial was told Medland armed himself with knives, concealing three of them up his sleeve and a fourth in his belt.
'Brutal attack'
Mrs Medland, originally from Luton in Bedfordshire, suffered stab wounds to her face, head, neck and torso in the attack.
After stabbing her, Medland used a smaller knife to slash his own wrists and stab himself in the leg.
Judge Anthony Scott-Gall said Medland could not accept his estranged wife's decision that their marriage was over.
He said: "In my judgment, your motive was clear. You intended to kill your wife because a) she had rejected you and b) because you couldn't bear the prospect of her being with another man."
"It's conceded that you launched a frenzied and savage attack... This was a brutal attack that was pre-planned."
Defence counsel Graham Trembath QC said Medland was "indescribably sorry" for his actions and that he was "desperate" for that to be publicly known.
He said: "He knows he will live with what he has done for the rest of his life."