Elderly residents evacuated from Sussex care home after fire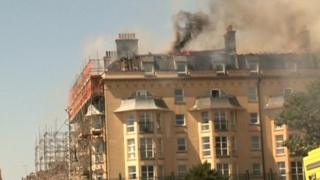 A fire at a care home forced elderly residents to be evacuated and temporarily re-housed at a church hall in Sussex.
The fire at the flats in Warrior Square, St Leonards, took place at 08:30 BST.
Thirty-two of the home's residents were evacuated and taken to a church hall while Hastings Borough Council finds suitable housing.
Police said no-one was injured, despite three people being taken to hospital.
Insp Phil Hogan said: "The site is cordoned off and the area between London Road and Norman Road has been closed while the building is made safe."