Ty Medland guilty of murdering wife in Brighton street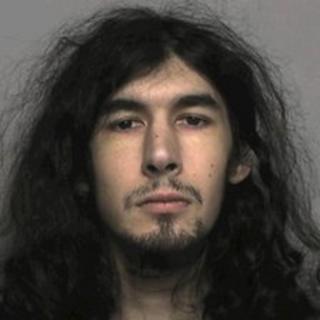 A man who stabbed his 24-year-old wife to death in the middle of a Brighton street has been found guilty of murder.
Ty Medland, 26, of Peacehaven, East Sussex, had admitted manslaughter on the grounds of diminished responsibility, but denied murder.
Samantha Medland suffered stab wounds to her face, head, neck and torso in Queen Square on 17 February.
Lewes Crown Court heard they had married 18 months earlier, but had been separated for a month.
'Immense loss'
Following the verdict, Mrs Medland's mother Amelia Shah said the actions of Medland had caused "devastation and heartbreak" to her family.
She said: "[Samantha] was in the prime of her life. She was young, beautiful, loving, and a wonderful daughter, sister and auntie who we miss terribly.
"The loss is immense. No-one should outlive their children."
Mrs Medland had moved out of her mother-in-law's home in Cavell Avenue, where the couple lived, on 28 January.
'Ghastly killing'
Ty Medland then arranged to meet her to hand over her remaining belongings.
The trial was told he armed himself with knives given to the couple as a wedding present, concealing three of them up his sleeve and a fourth in his belt.
Hours before he stabbed his wife to death, he sent a message to a friend saying she had pushed him to the edge and destroyed everything he believed in.
Prosecutor Richard Barton said it went on: "The only thing I want right now is murder suicide."
Medland also posted a message on Facebook branding his wife as a "cheating, lying, unloyal whore who destroyed everything I loved and believed in".
Jurors were told she had become close to another man and had rebuffed her husband's repeated attempts to patch up their marriage.
After stabbing her, he used a smaller knife to slash his own wrists and stab himself in the leg.
'Brutal loss of life'
Medland was described as a "petulant, self-centred man" incapable of dealing with rejection.
Following the verdict, Judge Anthony Scott-Gall told the jury: "It was really the most ghastly killing. I'm sure you will never forget it."
Prosecutor Simon Drew, from the CPS South East Complex Casework Unit, said the case represented "a tragic and brutal loss of life".
"He [Medland] violently overreacted towards Sam leaving him, lashing out at her in an explosive loss of temper.
"We welcome the jury's verdict that he was not suffering from a recognised medical condition which substantially impaired his responsibility for his actions when he murdered Sam Medland," he said.
Sentencing was adjourned until Monday.
The judge said Medland faced life imprisonment with a minimum term of at least 25 years.