Bognor Regis hit and run crash injures teenager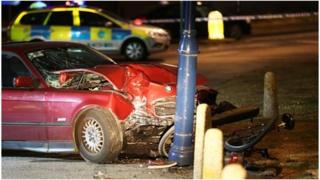 A teenager has suffered serious leg injuries in a hit and run crash in Bognor Regis.
Police said a maroon BMW 3 series left the road at the junction of High Street and Gloucester Road at 20:25 BST and hit the 17-year-old who was pushing a bike at the time.
The driver fled the scene, detectives said, leaving the crumpled car smashed against a lamppost.
Two men have subsequently been arrested.
Sgt Stewart Goodwin, from Sussex Police, said officers were keen to trace the rider of a yellow sports motorcycle seen in the area at the time of the crash.