Graffiti removed from historic Rottingdean Windmill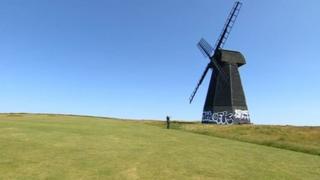 Graffiti daubed on the historic Rottingdean Windmill in Sussex has been removed.
Workers from Brighton and Hove City Council painted over three of the mill's faces to remove the tags.
Police are investigating after the graffiti was scrawled on the Grade II-listed structure on Sunday night.
The Smock Mill, which is believed to have been erected on Beacon Hill in 1802, ground corn for villagers and supplied local bakeries with flour.
Mike Moon, head of operations at Brighton and Hove's Cityclean, said: "The windmill has been a popular Rottingdean landmark since the early 1800s and it's a shame the incident happened at a time when people enjoy visiting this beautiful part of Brighton."
A Sussex Police spokesman said an officer was "examining an item that was found at the location".
The force has appealed for witnesses.