CCTV image of Brighton rape suspect released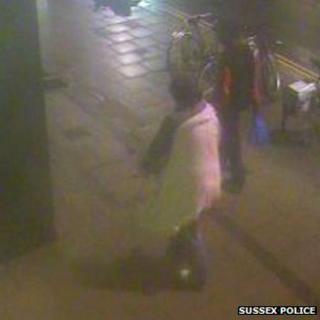 A CCTV image has been released after a woman in her 50s was raped in Brighton by a man who had spoken to her while she sat in a shop doorway.
She was outside Sainsbury's in St James's Road at about 03.40 BST on 23 April when the man took her back to his home and raped her.
Sussex Police said they believed the man lived in the Kemp Town area.
He was described as black, possibly in his early 20s and he was wearing a black and red American style jacket.
He was also wearing a black baseball cap, black jeans and black trainers.
Police said the victim was not able to remember exactly where the rape had taken place.
She had left his address after the attack and reported the rape to the police.
Anyone who saw the pair in the Kemp Town area are asked to contact Sussex Police.