Nelson Mandela death: Remembering Brighton conference speech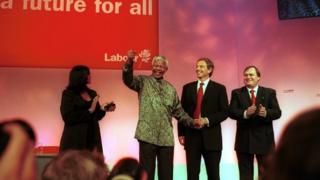 Ten years after being released from prison in 1990, Nelson Mandela addressed the Labour Party conference in Brighton to thank the world for supporting the fight against apartheid.
Mr Mandela was the first black president of South Africa after the end of apartheid, a system of enforced racial segregation, and as an African National Congress (ANC) leader spent more than 27 years in jail.
Shortly after he was imprisoned on Robben Island, the links with the south coast city began when an anti-apartheid movement was set up at the University of Sussex.
The university also established Mandela scholarships to enable black students from South Africa to come to Brighton for their education.
Many of those who went on to become members of the government in South Africa studied under those scholarships.
Thabo Mbeke studied economics at the university in the 1960s before going on to be president of South Africa. He was awarded an honorary degree in 1995.
The British Labour party supported the ANC's work to abolish apartheid in South Africa.
'Very inspiring'
The former Chancellor of the Exchequer Dennis Healey formed a relationship with Mr Mandela while he was in prison.
He said: "I went across to the prison on Robben Island and went to see him. I was very impressed by him and by the jailers who gave him great respect."
In 2000 Mr Mandela was invited to give the closing speech at the Labour Party conference being held in Brighton.
David Lepper was the Labour MP for Brighton Pavilion at the time of his visit.
"It was a very exciting occasion. It was very inspiring to hear him speak and it was a great celebration of what had been happening in South Africa," he said.
"The message from Nelson Mandela, a man who had been through so much, was 'don't forget the past, but look to the future. Those who have been enemies can be brought together and reconciled'."
Mr Lepper added: "When you've got a major figure who transcends political differences, like Nelson Mandela, coming to speak to you, it's something to cherish."
'Abhorrence of apartheid'
In his Brighton speech Mr Mandela thanked supporters in the UK for their help in toppling apartheid.
"The universal abhorrence of apartheid contributed significantly to the ultimate victory: freedom, non-racialism and democracy in our country.
"Britain was, in so many respects, a second headquarters of our movement."
He also spoke of the "crisis" of HIV and Aids which was affecting so many of his compatriots.
"In our country, 10 teachers die every month of Aids. In one university, a student dies every week.
"And in one of the most prominent universities in the country, more than 25% of the students are HIV positive.
Mr Mandela appealed: "We look to our friends to assist us to stave off that crisis."
The relationship between the former South African leader and the University of Sussex continues to this day.
Mandela Hall in the university's Falmer House still bears his name.
The Mandela Scholarship Fund was set up in 1973 to help South African students attend the university.
Melissa Nefdt, a Mandela scholar studying international development, said: "He's an icon for all people in the qualities that he possessed.
"He took up arms when it was needed and negotiated for peace when it was needed.
"There are so many people at home who look up to him and are energised by him," she said.
Ms Nefdt's parents took part in struggle against apartheid and her father was imprisoned for his involvement.
"South Africa is one of the most unequal countries in the world, and that's our burden and our challenge to overcome, and I'm here to learn how to do that," she said.
"We still have massive challenges but hopefully a young generation which is motivated will help overcome it."