Bordeaux bar owner brought Jeremy Forrest to justice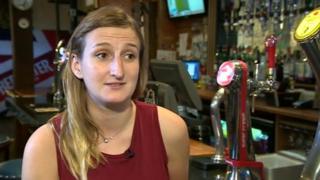 A bar owner in France has spoken of how her actions brought fugitive teacher Jeremy Forrest to justice.
Alison Cummins, co-owner of HMS Victory, an English bar in Bordeaux, recognised Forrest and alerted the authorities after he came into her establishment looking for work while on the run with the schoolgirl he abducted.
Forrest was found guilty of abducting the 15-year-old on Thursday, following a trial at Lewes Crown Court.
He also admitted five sex offence charges before being jailed for five and a half years on Friday.
The prosecution said the 30-year-old, of Petts Wood in south-east London, had groomed the girl at an East Sussex school, where he taught.
The court heard the pupil started having a sexual relationship with Forrest when she was 15 years old.
The pair travelled to France when it became likely their relationship would be exposed, the court heard.
Dyed hair
On 20 September last year, maths teacher Forrest booked a ferry online for that evening from Dover to Calais for "J Forrest"' and "E Forrest" travelling in his car.
That night, the pair were captured on CCTV hand-in-hand on board the Spirit of France ferry.
They drove overnight from Calais to Paris, abandoning the car on arrival and catching a train to Bordeaux.
They then booked into a hotel for one night before moving on to another lodging, dyed their hair and began looking for jobs after producing false CVs at an internet cafe.
After six days on the run, Forrest walked into the HMS Victory bar looking for work and handed Ms Cummins a fake CV under the name Jack Francis Dean.
She realised who he was when she checked the UK news on the Guardian newspaper website.
"I saw the girl's photo again and at that point I started to think 'I've got a funny feeling that that's the one I saw yesterday'," she said.
"To be sure I looked for his photo online and I saw that he was definitely the same person.
"There was no doubt at that point."
Ms Cummins contacted Sussex Police and officers from the force arranged to travel to Bordeaux in liaison with French police.
'No decent plan'
They asked Ms Cummins to contact Forrest and to invite him for a trial shift at the bar the next day.
On 28 September, French and Sussex police officers intercepted Forrest and the schoolgirl together in the street as they made their way towards the bar.
They had been on the run for nearly eight days.
The following day the girl was flown back to the UK to be reunited with her family.
Forrest was returned to the UK and charged with child abduction.
"I don't think they had time to get any decent plan together," Ms Cummins said.
"We have newspapers and the news and we might live in France, but we still know what's happening in the UK."