Brighton rubbish strike: Union considers new offer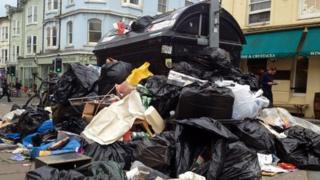 Striking refuse workers in Brighton and Hove are considering a new offer aimed at bringing their dispute to an end.
GMB branch secretary Mark Turner told the BBC: "We have an offer from the council, which we are now on our way to put to our members."
Refuse collectors and street cleaners have been staging a seven-day strike in protest over changes to conditions.
But traders who have been trying to keep their streets clean are furious at being criticised by council workers.
Businesses in Hove's George Street clubbed together to clean up their rubbish-strewn street because they feared it was harming trade and posing a health hazard.
But one trader said his daughter was confronted by a man who said their actions were "not helping the strike" and threw the rubbish they had collected back on to the street.
'Totally outrageous'
Florist Billy Kent said: "I totally understand their situation, but people are still entitled to tidy up the mess.
"What that man said to my daughter was totally outrageous."
The GMB has been in dispute with Brighton and Hove City Council for months over council plans to change staff conditions, which they say could cost some of them up to £4,000 a year.
More strikes are currently planned for next Monday, but Mr Turner revealed the council had now made a new offer, which his members are now considering.
He refused to reveal the nature of the offer or to say whether it was encouraging.
But business people in the area will be hoping for a resolution as they count the cost of the action.
Mr Kent said his takings were six or seven times less than on a "bad" day, and a neighbouring farm-shop owner's income was down more than 25%.
The George Street traders clubbed together to hire a van to collect the rubbish from their area and take it to the dump.
And Anne Martin, general manager at Brighton Pier, said: "If people don't come to Brighton, and if this escalates, then my workers are going to be worse off.
"In the meantime, you can't sit back and watch what is the destruction of a city."