Jeremy Forrest trial: Jury considers 'abduction' verdict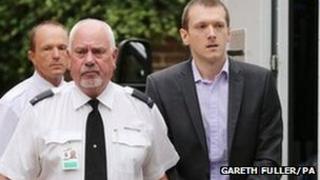 A jury is considering its verdict in the case of teacher Jeremy Forrest, who is accused of abducting a schoolgirl.
Mr Forrest, 30, of Petts Wood, south east London, denies abducting the girl, a pupil at an East Sussex school where he taught.
Lewes Crown Court has heard the pair went to France when it became likely their relationship would be exposed.
Judge Michael Lawson QC told jurors they would have to be satisfied he acted out of necessity to acquit him.
'Abuse of trust'
The girl's mother earlier told the court she had feared her daughter was dead when she disappeared with Mr Forrest for seven days last September.
Richard Barton, prosecuting, told the jury the teacher's actions were an abuse of trust, carried out without the consent of the girl's parents.
Mr Forrest chose not to give evidence in his defence but his barrister, Ronald Jaffa, told the court the girl had been "desperate and suicidal" and he had gone with her to France to prevent her from coming to harm.
Summing up, the judge told the jury of eight men and four women they would have to be convinced Mr Forrest's actions were a "reasonable and proportionate" response to prevent "imminent death or serious injury".
Before the day's proceedings began, Mr Forrest's father Jim collapsed and was taken to hospital but he is expected to return to court later.