BUPA to close Oakhurst Grange nursing home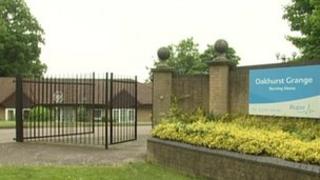 A West Sussex nursing home where standards of care were found "wanting" is to be shut down.
BUPA said it was closing Oakhurst Grange in Goffs Park Road, Crawley after speculation about its future.
West Sussex County Council terminated its contract with the home last week and started moving out 52 residents funded by the NHS and social services.
BUPA said staff would help residents to move to new homes with as little disruption as possible.
The venue was home to 79 residents, with needs including high level nursing and advanced dementia.
Six of them were funded by local authorities other than West Sussex, while others were funded privately.
Complaints continued
In a statement last week, the county council said: "Standards of care...have been found wanting by the Care Quality Commission over a period of time."
It had provided support to the management team to try to improve the standards of care but complaints about the wellbeing of residents continued.
It said privately-funded residents were being offered advice and information about their options.
But the council said families were told available accommodation was at a premium, so the county council was unable to guarantee people's first choice care home.
BUPA director of operations, Richard Jackson, said: "Our priority is to provide the best care that we can while residents remain with us and to support the staff in the home to deliver that care.
"We are speaking to residents and their families to see what help they need and we will provide whatever practical support we can."