Jeremy Forrest trial: Teacher 'warned about pupil gossip'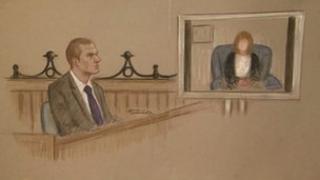 A married teacher who travelled to France with a 15-year-old pupil had been warned to keep his distance from her, a court has been told.
Pupils at Bishop Bell C of E School in Eastbourne, East Sussex, had been saying the girl had a crush on Jeremy Forrest, the jury was told.
Another teacher spoke to Mr Forrest over claims he showed the girl favouritism on a school trip to the US.
Mr Forrest, 30, denies a charge of child abduction at Lewes Crown Court.
Teacher Emma Tremaman, who organised the half-term trip to Los Angeles in February last year, said the girl had avoided punishment for alleged misbehaviour after Mr Forrest intervened saying she had not been involved.
She said: "There were a group of girls that were complaining about [the girl] being let off and this is when some of the students claimed that she was always being let off and that she had a crush on Jeremy."
Ms Tremaman said she spoke to Mr Forrest at the end of trip amid concern the rumours could damage his career.
Mother informed
The trip took place seven months before Mr Forrest and the girl fled to France.
Neil Pittman, who was head of upper school at Bishop Bell, said other pupils voiced concerns, so he spoke to Mr Forrest about the rumours the girl had "a crush" on him and offered him advice.
He also spoke to the girl's mother about gossip that her daughter had a crush on Mr Forrest, jurors heard.
And he said: "She told me that she was aware of it and it was probably no more than a teenage crush."
Mr Pittman said he also spotted Mr Forrest in "jovial conversation" with the girl, ignoring his advice to him to keep a distance from her.
Jurors heard the school's deputy head teacher Mark Talbot met Mr Forrest in March last year amid concerns he had not heeded advice, and told him to make sure he was not alone with her and to keep his door open.
Mr Talbot said Mr Forrest seemed very clear "there was nothing going on".
'Seemed familiar'
After Easter, Mr Talbot and Mr Forrest agreed assistant head teacher Alicja Bobela, who was responsible for child protection, would speak to the girl, jurors heard.
Mr Talbot said he offered support after Mr Forrest described his relationship with his wife as not good and abusive, suggesting helplines or the personnel manager, which he said he did not want to do.
Mr Forrest was brought up at a senior leaders' meeting, and it was noted the girl was not "hanging around" his classroom quite so much, jurors heard.
Alison Cummins, who owns the HMS Victory bar in Bordeaux, told the court Mr Forrest applied to work there using a bogus CV and the name Jack Francis Dean.
Jurors heard she saw Mr Forrest the following day with a girl who looked 21 or 22.
"She seemed familiar to me but at this point I didn't recognise where from," she said.
Ms Cummins said she saw news reports on 27 September, recognised the pair, and contacted Sussex Police.
Police later asked her to invite Mr Forrest into the bar, and she later heard he had been arrested, she said.
Mr Forrest, of Chislehurst Road, Petts Wood, Kent, denies child abduction.
The case was adjourned until Monday.