Brighton and Hove week-long refuse strike begins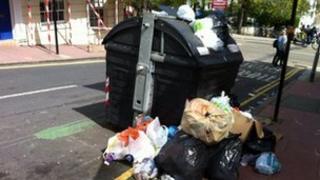 Refuse and recycling workers in Brighton and Hove have begun a week-long strike over pay and allowances.
GMB union members voted by 95.6% in favour of taking industrial action in response to Green Party plans to reduce their take home pay.
The union says staff face pay cuts of up to £4,000 a year.
Council chief executive Penny Thompson said while some staff would gain from the proposals, others would see a reduction and receive compensation.
The council is offering the worst-affected employees one-off compensation payments of £3,000.
Wildcat strikes
It said changes to staff terms were driven by a need for a "fair, consistent and transparent" pay and allowances system.
Apologising to residents, Ms Thompson said although "as much rubbish as possible" had been removed prior to the start of the strike, it was not legally possible to employ agency staff to do the job of striking workers.
In an open letter to residents, she said: "During the strike we would advise residents to put rubbish securely in bins or containers.
"If you can, we would ask for rubbish and recycling to be taken to one of the city's rubbish and recycling sites on Old Shoreham Road and Wilson Avenue.
"These will be open for longer during the strike.
"We hope that residents and visitors will assist us by trying to minimise the build up of rubbish in the city."
The council said communal rubbish bins, street litter bins and recycling points would not be emptied during the strike.
GMB union members will hold a march from the Cityclean Depot to Brighton and Hove City Council's offices on Saturday.
It will be led by general secretary Paul Kenny.
Rubbish has been piling up on some streets in the city due to last month's wildcat strikes and there are fears events like this weekend's London to Brighton Bike Ride will exacerbate the problem.