Jeremy Forrest trial: Pupil tells of classroom kiss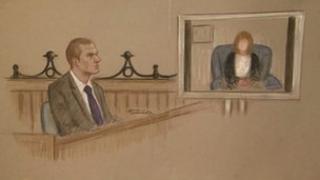 A schoolgirl allegedly abducted and taken to France by a teacher kissed him in a classroom, a court has heard.
The girl, who is now aged 16 and cannot be named, said she was 14 at the time of the kiss at Bishop Bell C of E School in Eastbourne, East Sussex.
The jury was played video of a police interview where she said married Jeremy Forrest knew he could go to prison but told her "I really want to kiss you".
Mr Forrest, 30, denies a charge of child abduction at Lewes Crown Court.
Before the kiss the pupil would attend school early so she could meet up with him, jurors heard.
'Probably encouraged it'
She told the police interviewer: "He said 'I really want to kiss you' and I said 'I really want to'.
"He told me that he didn't want to take advantage of me, and I just didn't have a problem with it anyway."
She said she wanted to do it because she liked him, and "didn't give it a second thought", but later became worried and talked to her friends about it.
During the interview, the girl said she could not remember when they first had sex but said it happened "a few times" in hotels, and each time she would tell her mother she was staying with a friend.
The girl added: "The lead-up was that, just like we had said, we wanted to take things further and it was a natural thing. We had doubts. He felt so guilty about it."
The court heard Mr Forrest stopped wearing his wedding ring, told the girl he and his wife had separated twice and said he might introduce her to his parents.
Jurors heard the pair had sex in Mr Forrest's house, at a hotel and in his car.
When asked by police if she thought or understood there to be a problem with the relationship, she said there was "the teacher thing" and "the age as well".
Lewes Crown Court heard Mr Forrest, of Chislehurst Road, Petts Wood, south-east London, later fled to France with her when she was aged 15, spending seven days on the run.
Before the pair left in September, the girl's mother called her home after a visit by the authorities, jurors heard.
'Sightseeing in Paris'
The girl said she suspected the visit related to their relationship and went to see Mr Forrest who told her "tell them what you need to say" - but when questioned she denied everything.
"The first thing I did after they left was to pack a bag," she said.
The teenager first thought of running away by herself, but then the plan for both of them to go to France was "kind of my suggestion", she said.
Ferry tickets were booked under Mr Forrest's and his wife's name and she faced no passport checks, the girl added.
In Paris, Mr Forrest took her sightseeing and, over the coming days, the pair prepared CVs to apply for jobs.
At one stage they visited an internet cafe, where Mr Forrest saw their disappearance was the most read story on a local newspaper website, the girl said.
"That scared us," she added.
The girl said Mr Forrest looked up the length of a jail term for having sex with a child.
She also said she knew she was under the age of consent but forming a relationship with her was a risk Mr Forrest had been willing to take.