West Sussex flooding: Victims homeless a year on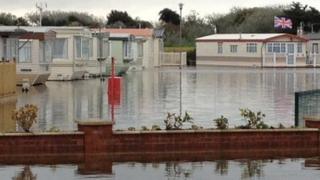 Flood victims are still waiting to return to their homes a year after their properties were damaged.
Two months' worth of rain fell in 24 hours in parts of West Sussex last June, flooding major roads and damaging nearly 800 properties.
Jane Smeaton said she had been living in a caravan on her driveway in Felpham, near Bognor Regis, since then.
A report by West Sussex County Council said many drainage systems had been overwhelmed.
'Not particularly fun'
Ms Smeaton, who has just started work for the National Flood Forum as community resilience officer for West Sussex, said 18 inches of water and sewage had been left on the ground floor of her home following the downpour.
She said: "We only, towards the very end of last week, received the money from the insurance company to enable us to reinstate the building.
"So for now we have two rooms upstairs that we can use but otherwise we're in the caravan.
"It's been tough. I know people have things a lot worse than that but it hasn't been a particularly fun time."
She said Southern Water had since upgraded valves in pipes to make flooding less likely.
The county announced it would spend £8m to deal with the problem in January.
It has also set aside more than £1m for local communities to use for clearing ditches, hiring equipment and developing small scale flood plans.