Brighton residents trapped by fire at flats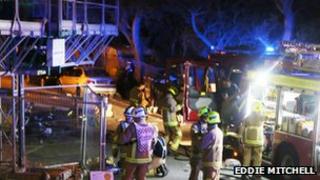 Residents trapped on a balcony by a fire in their block of flats in Brighton have been saved by firefighters.
One person was rescued from the balcony while two others were led to safety after the blaze broke out in Falcon Court, Whitehawk, on Sunday night.
The fire started in a hallway on the second floor just before 22:30 BST.
The cause is being investigated, and police say a 46-year-old man has been arrested in connection with the blaze.