Undercliff Walk behind Brighton Marina to reopen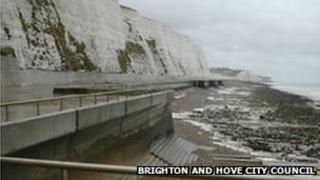 A popular coastal walk behind Brighton Marina will reopen after the cliffs were monitored over the winter.
The Undercliff Walk has been closed since December following concerns wet weather had affected the stability of the cliffs.
However, there have been no major cliff falls and stabilisation work has been carried out.
Councillor Pete West said Brighton and Hove City Council had been working with geologists to conserve the cliffs.
The walk is due to reopen on Monday.