Brighton roof fall: No action taken by police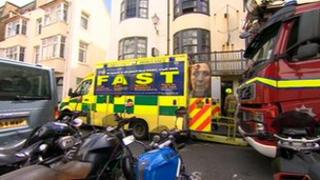 No action is to be taken after a man fell through the skylight of a hostel in Brighton, Sussex Police have said.
The man, in his 40s and a resident at the Grapevine hostel, fell about 20ft (6m) through the roof into a basement of the building in Middle Street.
He remains critically ill with serious head injuries at a London hospital following the incident, which happened on Monday morning.
It is thought he was wearing only a T-shirt when he fell.