Long Man of Wilmington gets scout restoration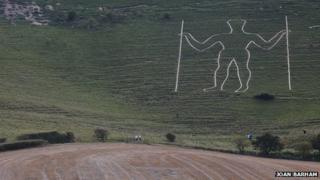 A 235ft (72m) chalk carving cut into the hillside near Eastbourne in East Sussex has been repainted by scouts.
The Long Man of Wilmington is thought by some to be an ancient fertility symbol.
During Word War II, the outline of the figure was painted green to blend in with the hillside as it was feared German pilots were using it as a landmark.
The figure was restored as part of a UK-wide project by the scouts.
Tristan Bareham, chief executive officer of Sussex Past, said: "We're delighted to see local scouts getting involved in our project with the South Downs National Park to maintain and preserve the Long Man."
The work is the flagship project in Scout Community Week, which includes 3,000 projects nationwide involving more than 160,000 scouts.
Celebrity adventurer Bear Grylls, who is the UK's chief scout, said: "Volunteering is at the heart of scouting, and this event is a great way for scouts to get out and do one thing for their community."