Brighton and Hove's overflowing bins are 'health hazard', says MP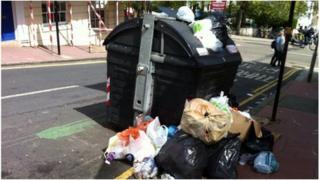 The lack of rubbish collections in Brighton and Hove is causing a "health hazard" as rats and seagulls pick over waste, an MP says.
There has been continuing disruption to waste collections in the city since refuse collectors went on an unofficial strike at the beginning of May.
Mike Weatherley, Conservative MP for Hove, said his mailbag had never been so full with constituents' complaints.
The city council said there was "no indication" of any public health risk.
The unofficial two-day strike was over pay and allowances.
Its impact is still being felt, with some residents claiming their rubbish has not been collected for a month.
'Very frustrated'
Mr Weatherly said: "It's causing a health hazard, it's not good for investment in the city or tourism in the city.
"I can see why people are writing to me in their numbers because they're just very frustrated."
The GMB union has been balloting workers in the council's Cityclean department over taking official industrial action. The results are due next week.
Tom Scanlon, director of public health at the council, said: "At present there is no indication of any significant public health risk from the bins that have not been emptied in the city.
"The council is closely monitoring the situation, and the public health and environmental health teams are working together to ensure that should any public health risk emerge, then prompt and effective action is taken."
The council is run as a minority administration by the Green Party.