Talent show mum Amanda Webber jailed for benefit fraud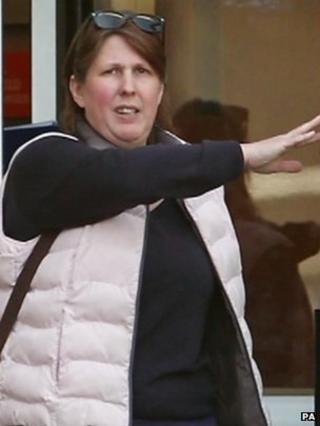 A mother of eight who fraudulently received £350,000 in benefits and tax credits has been jailed for four years.
Amanda Webber, 43, claimed five of her children had disabilities and medical conditions affecting their mobility.
But Brighton Crown Court heard the children were active and took part in drama and dance. Some even auditioned for ITV's Britain's Got Talent show.
Webber was told she was guilty of one of the biggest single benefit fraud overpayments ever recorded.
Judge Anthony Niblett said Webber and her family at one point had an income of more than £10,000 a month.
At the sentencing hearing, he said: "This is an income which the vast majority of your hard-working, honest fellow citizens can only dream of.
"These benefits included private education and every material advantage for them, including a grand piano and a dance studio in your last home, so as to encourage the undoubted talents of some of your children."
Billy Elliot
Webber received £353,000 in benefits over a 12-year period from 1998.
She made benefits claims on the basis five of her eight children had various disabilities and conditions which affected their mobility and care needs, the court was told.
At the time of her arrest, Webber was living in a seven-bedroom house in Sussex.
The prosecution said the children led active lives, taking part in PE classes and activities including music, drama and dance, without any difficulties.
As well as auditioning for ITV's Britain's Got Talent show, some of her children performed in professional productions on TV and on stage.
They included Les Miserables, The Wizard of Oz and Billy Elliot, Webber's trial heard.
No school records
During the trial, prosecutor, Andrew Evans said the children's stage roles were "inconsistent" with the care and mobility issues Webber had described.
On her benefits claim forms, she said some of her children had problems with their speech and language, physical and learning disabilities and behavioural issues.
The court was told the schools had no records of any such learning difficulties or mobility issues.
Some of the children travelled to performing arts school in London by train and underground during the rush hour, the jury heard.
DVDs found at Webber's home showed her children taking part in ballroom dancing. One child, who was said to have a fear of water, was filmed swimming.
Confiscation threat
On Thursday, Webber was found guilty of 23 out of 24 charges she faced, including fraud, obtaining a money transfer by deception and obtaining property by deception.
She was cleared of one count of making a false representation.
The false payments related to disability living allowance, carer's allowance, tax credits and housing and council tax benefit.
Prosecutor Andrew Evans said the Crown would be looking to start confiscation proceedings against Webber to recover some of the money.
Judge Niblett said: "You have chosen to have eight children and to live your life as you have, but you are not entitled to do so at the expense of your fellow citizens who work hard and struggle on modest incomes."