St Thomas a Becket Church in Lewes undergoes urgent repairs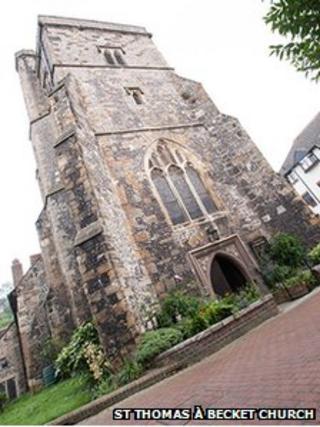 A historical church in East Sussex has been closed to visitors after a section of the nave was found to be in danger of falling down.
Restoration work at St Thomas a Becket in Lewes revealed repairs costing about £20,000 are needed.
Parishioners are still able to attend services when stonemasons are not there, but visitors are not allowed in.
The church, in the Cliffe part of town, is thought to have been founded in the late 12th Century.
The true nature of the damage was revealed when a stonemason removed the rendering to the worst-affected areas last week.
'Enormous cracks'
John Kay, from Lewes History Group, said it was a heavy stone structure built on an artificial causeway across marshes by the Archbishop of Canterbury.
"In the long term it's not in as stable as position as it would be if it were built on chalk," he said.
Churchwarden Imogen Stewart said: "You can see that there are enormous cracks in the walls of the nave, underneath where [the stonemason] has taken the rendering away.
"And he's filling them up with the right type of cement and oak ties and pegs which will, we hope, keep it right for quite some time."
She said donations had been made by by local trusts, including the Chalk Cliff Trust.
"We are of course very grateful for any other donations because although these repairs are very good ones and we hope will last for a while, it is a church that does need quite a lot of work done on it."