Ho Chi Minh 'friendship' statue unveiled in Newhaven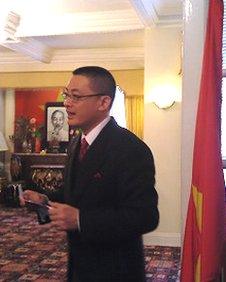 A statue of communist leader Ho Chi Minh has been given to a Sussex town he is thought to have visited whilst working on a cross-Channel ferry.
It is claimed he made trips to Newhaven port when he was employed as a chef following World War I.
Vietnam Ambassador to the UK, Vu Quang Minh, unveiled a bronze statue at the town's museum on Sunday, which would have been Ho Chi Minh's 123rd birthday.
Newhaven council is using its link with Ho Chi Minh as part of a tourism drive.
A banner in West Quay asks: "Did you know that Ho Chi Minh once worked as a pastry chef on the Newhaven-Dieppe ferry?"
Other details that will appear on banners around the town include the landing of exiled French King Louis Philippe in 1848 and the fact that Lord Lucan's car was found abandoned at the port following the death of Sandra Rivett in 1974.
Mayor of Newhaven, Julie Carr, said "I am delighted and honoured to be able to welcome his excellency to our town and very much hope that this will lead to firm ties of friendship between Newhaven and Vietnam."
Professor of Modern European History at the University of Sussex, Martin Evans, said he was first told of the town's link with Ho Chi Minh by a French communist in the 1980s.
In his autobiography, Ho Chi Minh mentions working in various jobs in London.
University of Essex history lecturer Dr Mark Frost said all the accounts of Ho Chi Minh's early life, including his autobiography, were open to debate but it was entirely conceivable that he worked on the Dieppe-Newhaven ferry between the end of WWI and 1923 when he moved to Moscow.
Scholar and biographer of Ho Chi Minh Sophie Quinn-Judge, is sceptical of his link to Newhaven but agrees that the times match with what they do know about him.
Related Internet Links
The BBC is not responsible for the content of external sites.