Crawley revamp 'money well spent'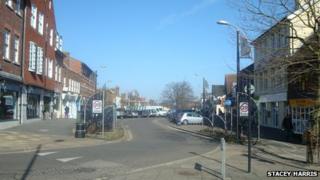 The £12,000 revamp of a high street in West Sussex is "money well spent," the chairman of the town centre partnership has said.
Crawley was awarded £10,000 of government funding, along with £2,000 from West Sussex County Council, to give its high street a makeover.
Railings, planters and other street furniture are being repainted.
The work will also see three electric bollards and railings which were damaged by cars repaired.
The work started on Monday and is due to be completed next week.
'Pretty scruffy'
Restaurant manager Melinda Sandor, said: "It's a very good idea to make it more attractive."
Abu Sufian Khan, also a restaurant manager, added that he hoped it would bring more business to the area.
Peter Ross chairman of the Crawley Town Centre Partnership, said it was "money well spent".
"The high street was looking pretty scruffy, then we went and applied for this money," he said.
"It's looking better, it's making the street look smarter. It can do nothing but good.
"My next target is to get rid of chewing gum on the streets, which I'll be talking to the council about."