Battle of Lewes archaeological dig begins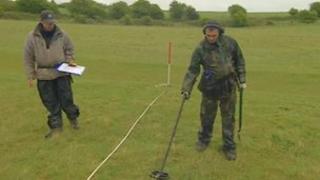 An archaeological dig has started in Lewes to try to find evidence from a historic battle in the Sussex town.
The dig, on the site of the Battle of Lewes, started on its anniversary.
Lewes is gearing up for celebrations next year to mark the 750th anniversary of the clash between the armies of King Henry III and Simon de Montfort.
Luke Barber, from Sussex Archaeological Society, said the first day uncovered a number of finds but the oldest probably dated to the 15th Century.
The research officer said the main area of the battle was now built over and had become the western fringes of the town.
'Bridle strap' found
Landport Bottom, where the five-day dig is taking place, is the last open area where the battle is thought to have been fought, he said.
"It started up here on the hill and then pushed its way into the western outskirts of Lewes, so this is the one bit that's still open ground that we can actually properly survey."
He said searches had been carried out with metal detectors across the north end of the field and, as the team worked southwards, it was hoped material linked to the battle would be found.
"We've got a leather mount from possibly a bridle strap or something from a horse, but we'll have to do some more research on that to see whether it could be of the age," he added.
Work started on the site on Tuesday, and will continue from Friday to Monday.
The society has described the battle - which resulted in the king's defeat and the summoning of England's first representative parliament - as an "early struggle for democracy".
More than 300 volunteers have worked on the town's Battle of Lewes Project, a community scheme funded by the Heritage Lottery Fund, that culminates in a special celebration next year.