Brighton refuse collections resume after strike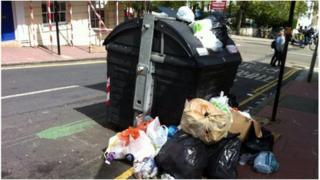 Refuse workers in Brighton and Hove have resumed their collections after a strike over pay and allowances.
The unofficial action last Wednesday and Thursday led to missed collections across the city.
Residents were asked by the council to take rubbish to recycling centres if they could not wait for work to resume.
It warned on Monday that there would still be some ongoing disruption to refuse and recycling collections and street cleaning services.
The council urged residents and businesses to put out their refuse and recycling for collection on the next scheduled collection day if it had been missed.
'Fruitless negotiation'
It said crews were unlikely to collect waste that did not fit into bins or boxes, which was "part of the ongoing disruption", and it was unable to deal with individual reports of missed collections online or via the phone.
The GMB union said last week that its members in the council's Cityclean department would be balloted for industrial action.
Charles Harrity, GMB senior organiser, said the ballot over "plans to make huge cuts to take-home pay" followed "months of fruitless negotiation".
He warned that if members voted for strike action there could be a stoppage next month.
Council chief executive Penny Thompson said the authority had put forward proposals to ensure "fair and consistent" pay and allowances for 8,000 staff affected.
She said proposed changes had little or no impact on about 90% of staff, and of the 10% affected most would see an improvement, with compensation provided to those who were negatively affected.