Mx (Mixter) title adopted in Brighton for transgender people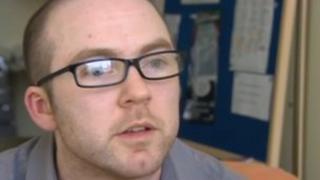 People will be able to enter Mx [Mixter] or leave the title space blank on council forms in Brighton and Hove.
The measure is just one of a raft of proposals aimed at making the city a fairer place for transgender people.
Gender-neutral public toilets will be provided, along with individual changing rooms at all leisure centres.
Ed Whelan, from FTM Brighton said improvements would help make trans people in the city happier and healthier.
Some 37 recommendations were approved by the full council on Thursday.
Electronic check-ins at GPs surgeries will also be changed so people do not have to identify as male or female, and NHS workers and council staff will receive awareness training.
Plans for more action to address discrimination experienced by older trans people, such as in care homes, were also approved.
The council is also looking into setting up a transgender swimming session at St Luke's Swimming Pool in Brighton, similar to the existing sessions held for Muslim women there.
Mr Whelan, from transgender support group FTM Brighton, said he welcomed all the changes.
He said transgender people suffered much more proportionally with mental health issues than others.
"It's these little things that constantly remind you that you're less important, less significant," he said.
All the political parties on the council support the changes.
But Andrea Williams, CEO of Christian Concern, said: "Humanity is made of two halves, men and women.
"We're either a man or a woman and so actually to begin to have forms where we put down what we think we are is something that isn't the truth."
Phélim MacCafferty, deputy leader of Brighton and Hove City Council, said: "Our trans community is one of the most disadvantaged and marginalised groups in Brighton and Hove.
"There has been inadequate awareness of the lives of trans people for too long. Trans residents have the right to access services and daily activities that we take for granted and not enough has been done to help.
"Mx is a title preferred by some of the trans community as an alternative to Mr, Mrs or Miss. The title was not created by Brighton and Hove City Council but has been in use elsewhere for several years.
"While there is no official estimate nationally or locally of the trans population, through working closely with local voluntary organisations, we know there are a significant number of trans residents who experience severe discrimination in most areas of their lives."