West Sussex site targeted for oil and gas test drilling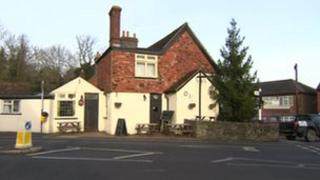 Shale gas company Cuadrilla is to carry out exploratory drilling at a site in West Sussex.
Cuadrilla plans to drill a 3,000ft (914m) vertical well and a 2,500ft (762m) horizontal bore to the south of Balcombe, near Haywards Heath, in June.
It said if oil and gas were discovered tests would be carried out but neither well would be hydraulically-fractured.
Balcombe Parish Council said it had been given assurances that fracking would not take place at the site.
Fracking involves pumping a mixture of water and chemicals into shale rock at high pressure to extract gas and oil.
The local authority previously told representatives of Cuadrilla on 3 May it was "committed to oppose" the technique.
Exploration borehole
Fracking was banned temporarily in the UK in 2011, after it was blamed for two earth tremors in Lancashire during drilling carried out by Cuadrilla.
Environmentalists remained concerned about possible contamination of water supplies.
In December, Cuadrilla said it had no intention "at the moment" of drilling to the area south of the village, where it now has permission to drill a borehole for oil and gas exploration.
On Wednesday, a spokesman for the energy company said it had "planning permission from West Sussex County Council for further exploratory drilling since 2010.
"This permission has a deadline attached to it and so Cuadrilla is keen to complete this approved activity before the permission expires."
'Dirty and unnecessary'
Chief executive Francis Egan added: "Although this summer's work will be unobtrusive, we're fully aware that local people will have many questions about our plans and we'll do our best to answer all of them.
"During the coming months, we will discuss our plans with residents and they will be able to visit the site to see for themselves what our work involves."
Tony Bosworth, of Friends of the Earth, said: "Today Lancashire, tomorrow the Weald - this test drilling could lead to fracking on a large scale.
"This news will strengthen the resolve of local people who are already fighting to protect their communities from the fracking threat."
He added: "Fracking is dirty, unnecessary and a risk to our climate and environment. We should be investing in safe, clean energy from the wind, waves and sun."
The exploratory drilling is expected to last for about four months.