Escaped raccoon asleep in Drusillas playground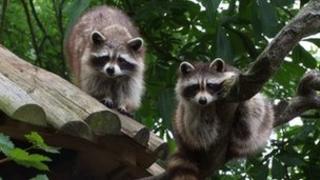 One of a pair of raccoons which escaped from their enclosure at a zoo in East Sussex has been found asleep in the park's adventure playground.
Schoolgirls Sasha Rodger and Daphne Lock found Turpin curled up in a crate at the top of a climbing frame at Drusillas Park in Alfriston.
The girls were at the zoo while their school was shut to be used as a polling station in the county council election.
Bandit, the other missing raccoon, remains at large, the zoo said.
"The keepers were so excited when they received the report that one of the raccoons was safe and in the park," said zoo manager Sue Woodgate.
"Turpin was very pleased to be reunited with her mum and dad. She has eaten well and is in good health.
"We are very grateful to Sasha and Daphne for finding her."
The raccoons, two of four at the zoo, were found to be missing during checks on 26 April.
Keepers think they may have been spooked by a noise or movement, and fled through the electric deterrent.
They appealed for information on their whereabouts and said they would not have strayed far and were likely to be in nearby trees or shrubbery.
Keepers said the animals were able to survive on their own for some time but warned members of the public not to approach them in case they were scared or stressed.
The four raccoons were moved to a new shared enclosure at the start of March and were still adjusting to their surroundings, the zoo said.