Seal beached in Sussex killed due to sickness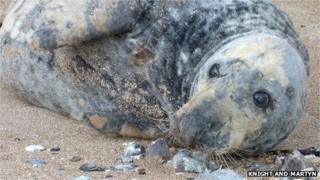 A sick seal was put down by animal welfare experts after being found beached in Sussex.
The 7ft (2.1m) adult grey seal was sighted close to the Hope Gap steps, near Seaford, on Sunday.
An assessment of the seal on Monday found it to be extremely underweight with signs of cataracts. It also had numerous cuts from the rocks.
It was decided there was no chance of rehabilitation so it was sedated and then killed.
Trevor Weeks, from the East Sussex Wildlife Rescue and Ambulance Service, said: "The vet from Beachwood Vets in Seaford, then sedated the seal before euthanizing it, which was very quick and the seal put up very little resistance - showing how unwell the poor creature was," he said.
"A healthy large adult grey seal would normally be impossible to catch."
He said members of the fire service and coastguard then winched the dead seal off the beach.