Brighton and Sussex NHS 'worst for A&E 12-hour waits'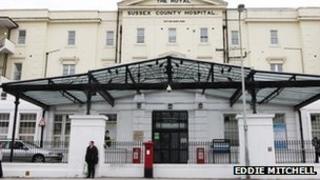 A Sussex NHS trust has been named as the worst in England for numbers of patients waiting more than 12 hours to be admitted to A&E.
Health Service Journal (HSJ) statistics showed Brighton and Sussex University Hospitals Trust had recorded 52 waits of 12 hours since January.
The NHS trust said an unacceptably high number of patients waited longer than it would want from January to March.
It said waiting times had improved with no 12-hour waits in the past six weeks.
The trust has A&E departments at the Princess Royal Hospital in Haywards Heath and the Royal Sussex County Hospital in Brighton.
'Complex issues'
In a statement, the NHS trust said: "In the last three months of 2012-13 (January to March 2013) a number of external factors and system difficulties resulted in an unacceptably high number of patients waiting longer than we would want in our emergency departments following a decision to admit them."
It said it had put a plan in place to reorganise and rebuild systems and address the "varied and complex" issues that caused it.
"We are already starting to see improvements," it said.
"In the last six weeks we have reported no patients waiting longer than 12 hours to be admitted, and our performance in relation to the four-hour standard of care is also looking better."
The HSJ said pressure on A&E units had seen a large increase in the number of trusts reporting patients waiting more than 12 hours.
It said figures from the Department of Health and NHS England showed 167 emergency patients waited more than 12 hours in 2012-13, compared with 123 in 2011-12.
According to the HSJ, 146 of those 12-hour waits took place between January and the end of March 2013.