March for England held on Brighton seafront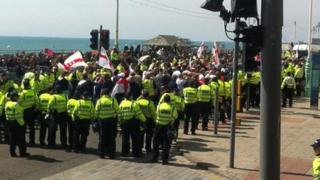 A nationalist march on Brighton seafront, involving hundreds of participants and counter-demonstrators, has ended peacefully.
Police kept the two groups apart during the two-hour march, during which they chanted at each other.
Sussex Police said 13 arrests were made for public order offences, theft, criminal damage and possessing weapons.
A small fracas outside the Sea Life Centre was brought under control before the march.
Brighton and Hove Buses said there had been minor disturbances in the Old Steine area. Some of its services were diverted.
The bus company later tweeted that the city centre was at a standstill as the march broke up into "splinter" groups.
Sussex Police said it had a large presence of officers in the city during the march, whose priority was to maintain public safety.
It was keeping a heavy presence afterwards to prevent any disorder as participants dispersed.
The A259 coast road from Brighton Pier to West Street was closed from 10:00 BST on Sunday, with Madeira Drive also closed for a Jaguar car rally.
People taking part in the march and the counter-protest were ordered to gather in separate designated areas before the march began.
March for England participants were told to assemble in an area in Madeira Drive, while protesters were to gather in an area next to the A259.
The march passed from Madeira Drive to the junction with Middle Street, where it turned to retrace its steps.
March for England, which describes itself as an English pressure group, has held an event in Brighton to mark St George's Day for the past six years.
Last year, about 140 people took part and were met by about 400 anti-fascist protesters.
Two police officers suffered head injuries in 2012 when bottles were thrown at them and three people were arrested for public order offences.