London Marathon: Ex-paratrooper runs for record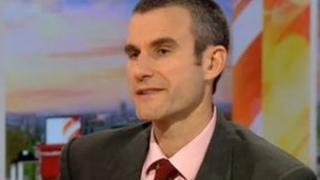 An ex-paratrooper says he is confident he can beat a world record at Sunday's London Marathon - by running with a 40lb (18kg) pack in 3 hours 20 minutes.
Mike Ellicock was blown up on a special forces operation to save UK hostages in Sierra Leone, only surviving because he was wearing body armour.
The 37-year-old, from Lewes, East Sussex, has so far raised over £20,000 for the Parachute Regiment Charity.
He will be carrying a weight equivalent to a para's equipment in a rucksack.
Serving as a platoon commander in 1 Para, Mr Ellicock was flown to Sierra Leone in September 2000 to take part in the rescue of five soldiers from the Royal Irish Regiment taken hostage by a rebel militia.
His unit was caught in what Mr Ellicock describes as a Vietnam-style exchange of red and green tracer bullets.
'Worst of wounded'
Mr Ellicock, who now runs an education charity, was wounded in his arms, fingers and legs and had to be evacuated from the scene by helicopter.
His mother was told: "One man is dead, 11 are wounded. I am sorry, Mike is the worst of the wounded. We know nothing more.
"Luckily, we had decided that we were going to wear body armour and helmets because we were going in at first light and it was still quite cool," he said.
"Usually the heat wouldn't allow for that, and it saved my life for sure."
One member of the SAS was killed, but all the hostages made it out alive.
'Wished me well'
The current Guinness World Record for running the marathon carrying an equivalent weight was set by a Japanese athlete at 3 hours and 42 minutes at the Tokyo Marathon in February.
The record for the London Marathon - 4 hours and one minute - belongs to a Royal Marine.
"I have spoken to the Royal Marine who holds the record for the London Marathon and he wished me well," Mr Ellicock said.
To make the weight, Mr Ellicock is packing a sleeping bag, climbing rope, biology textbook, ankle weights and "random bits of clothing".
"Runners usually fatigue late in the last six miles of the marathon, and when you are carrying weight it is more of a step into the unknown, but I am confident I will come in at under three hours and a half and beat the record," said Mr Ellicock.